November is National Osteoporosis Month! In support of those managing osteoporosis and their healthcare providers, we are pleased to announce that we will be adding the Clinical Practice Guidelines for Osteoporosis in Canada to our platform.
With this update, Auxita will pull patient data from a clinic's EMR and automatically perform the basal 10yr fracture risk calculation. The results of this calculation, along with classification and follow-up recommendations, will be presented on the patient dashboard of our EMR-integrated platform.
The update will make it easier than ever for Canadian healthcare providers to identify and treat patients with osteopenia and osteoporosis.
The osteoporosis guidelines and basal 10yr fracture calculation join a multitude of other guidelines and calculations available within the platform, including heart disease, diabetes, and obesity.


How it works
Auxita is an EMR-integrated platform that analyses patient data using clinical guidelines to automate calculations, visualizations, and treatment pathways. The resulting data is presented in easy-to-read tiles, allowing healthcare providers to review and respond to a patient's health status in seconds.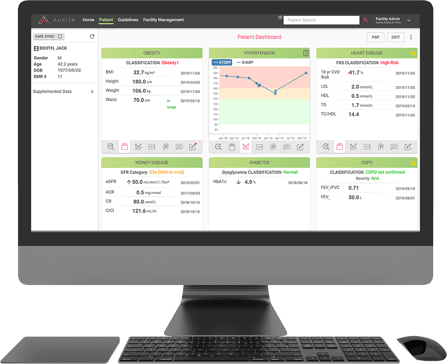 With this update, we are adding an "Osteoporosis" tile to our dashboard. The tile will show you a patient's classification and basal 10yr fracture risk using T-score data pulled directly from your EMR.
If this data is not available within the EMR, healthcare providers can also enter the T-score information directly into Auxita for a quick calculation.
Users can navigate through the tile to view historical data for patients with multiple T-scores. They can also access clear follow-up recommendations directly from the guidelines based on a patient's profile.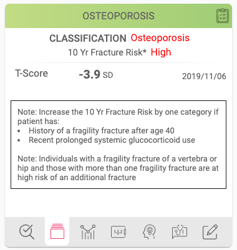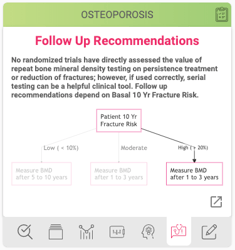 Making the osteoporosis clinical practice guidelines more accessible than ever
Along with creating the osteoporosis tile and automating the basal 10yr fracture risk calculation, we are making the "2010 clinical practice guidelines for the diagnosis and management of osteoporosis in Canada" readily accessible to Auxita users. At any time, healthcare providers using Auxita can click the "Guidelines" tab to review the full document in detail.
Overall, the change will make it easier for physicians and nurse practitioners to understand patients' osteoporosis status, determine the next steps for their care, and effectively help patients prevent bone fractures. Auxita always uses the latest clinical practice guidelines, and we always notify our users if guidelines are updated or changed.
Why osteoporosis?
Osteoporosis is a common health challenge for Canadians. According to the 2009 Canadian Community Health Survey, 10 percent of Canadians over the age of 40 are classified as having osteoporosis. Osteoporosis Canada estimates that a whopping 2 million people across the country are impacted by the disease.
One of Auxita's most steadfast values is responding to feedback from our users. Hundreds of Canadian healthcare professionals currently use Auxita, a number that continues to grow each day. To better serve our current and future users, we are always looking for ways to better support healthcare providers.
So, when dozens of healthcare providers asked us to add the osteoporosis guidelines and basal 10yr fracture risk to our platform, we listened. This update eliminates the need for manual calculations and ensures that a patient's osteoporosis classification is clearly stated during every appointment. Medical professionals have shared that this would help them identify osteoporosis at earlier stages and implement preventative care protocols more effectively. Better information for healthcare providers and better care for those managing osteopenia and osteoporosis - what's not to like?
When will Auxita's osteoporosis features be available for healthcare providers?
We are very pleased to have completed our implementation plan for this feature, which is scheduled to be fully launched in early 2020.

How can physicians and nurse practitioners get Auxita?
Thanks to its easy EMR integration, setting up Auxita takes less than 15 minutes from start to finish. The full version of the platform is available for free to Canadian healthcare providers. Auxita is powered by Canadian healthcare guidelines and calculations and is compliant with all national privacy and security standards.
Click here to schedule your demo of Auxita today!
For more information about National Osteoporosis Month and to support the #PurpleProud movement, visit the Osteoporosis Canada website.